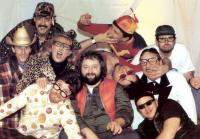 Over the last twelve years, Da Yoopers have proven their longevity with their comedy songs that have been garnishing radio air-play across the U.S., Canada and Australia. Their traveling comedy show is continually sold out. Da Yoopers musical comedy show is staged around their comical songs. The actors portray different characters in the songs. Da Yoopers target all their comedy toward themselves, therefore they are non-threatening to their audiences. The show is a one-of-a-kind, fast-paced, slap-stick, tongue and cheek, comedy show containing songs on bowlers, fishermen, hunters, Christmas toy crazes, dateless guys, goofy dogs, frogs, bears, deer, rough neck girls that surf Lake Superior, truckers with big bellies, fat babies, and many other crazy characters. The most repeated words among people that have attended Da Yoopers Comedy Show is - 'I never laughed so much in my life, those Yoopers are absolutely nuts!' What people need now, more than anything else in this world, is to laugh a little and have some fun - and Da Yoopers supply that need.
The group is self-contained with sound and lights. The group consists of five musicians, five character actors, and a support group of four that handle sound and lights, costumes, etc.
There is only one comedy group like Da Yoopers. People that purchase their music and attend their live shows consider them their favorite musical group of all time. These same people will go and see Da Yoopers show many times in one year.
I once asked a tourist from Pennsylvania why he stopped at Da Yoopers Tourist Trap in Ishpeming. He replied, "I love these guys. They poke fun at themselves and they are among the most talented and creative musical groups I know!" - Jim Hough-Country Lines Magazine.
Da Yoopers have honed their stage and studio skills over the years and now have seven comedy albums to their credit and an eighth album in the works. Radio airplay on Da Yoopers music include: Second Week of Deer Camp, Second Week of Deer Camp II, Rusty Chevrolet, Deer Hunter's Widow, Bingo Fever, Fishing Wit Fred, Free Beer, Heikki Lunta, Dog Named Zippo, My Car Won't Go, Happy Birthday Fungus Face, Smelting U.S.A., Anniversary Song, One Day After Christmas, It Was Eino, Big Truck, Grandpa Got Run Over By A Beer Truck.
Da Yoopers have also recorded a national radio ad for Stroh's Beer and several different public service announcements, including snowmobile and motorcycle safety and Heart Association hunting safety. Their song, Da Fishing Trip was used in the movie Tollbooth. Tailgate Tunes, an album of Green Bay Packer music was produced by Just Right Records and Da Yoopers Packer Backer Anthem was included in that compilation album. Also, the famous Dr. Demento has used several of Da Yoopers songs for his many compilation albums.
This past holiday season Da Yoopers received air play with two new Christmas songs, Rinky Dinky Doo Dad and Christmas is Everywhere. In the 1990's it is almost impossible for any independent record label to get air play, but Da Yoopers constantly keep proving everyone wrong. They also have a long-play video titled It's About Time, Eli! which is over one hour of crazy musical videos and comedy sketches that has been a success. Da Yoopers mailing list is up to 45,000 diehards and growing.
So don't hesitate, book Da Yoopers for your event. Your audiences will have a great time listening to and laughing at their crazy antics. You can't lose!
ONE CAN SHORT
OF A SIX-PACK SONGLIST (SAMPLE)
| | |
| --- | --- |
| SONG | ARTISTS |
| Mighty Manly Hunting Men | Da Yoopers |
| Da Fishing Trip | " |
| Da Anniversary Song | " |
| Pick of Da Litter | " |
| Ring Dang Do | " |
| Don't Go Up Dere | " |
| Meathead | " |
| 40 Lb Crappie | " |
| Wanna Buy An Organ | " |
Copyright ©1996 - 2009 St. John Artists - All Rights Reserved