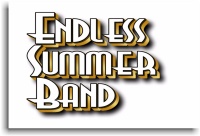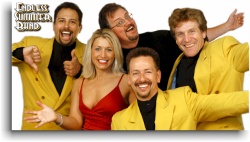 Endless Summer Band is a six piece musical troupe that performs nationally and internationally. Their five lead vocalists allow them to perform popular hits from the 1940's to the 1990's in a wide array of musical styles. Their high energy show features choreography, colorful costumes, humor, and audience participation.
Steve and Samantha Walker, two entrepreneurs from the Indianapolis area, over the last nine years, have created a very unique musical empire in and around the name ESB. ESB. It was while Steve was performing with the regionally successful group, Light, ten years ago that he discovered a niche in the music business and thus conceived the idea of forming a group that would concentrate in the "Special Event" entertainment market.
Steve and Samantha , (husband and wife team) own and manage ESB. While no longer touring, after 10 years onstage with the band, they now concentrate 100% on the customers and clients that ESB serves annually.
ESB's members:
Marshall Goodwin, vocalist and bass player
Bryan England, vocalist and guitarist
Gabrielle Phillips, vocalist and percussionist
Nick Lemmo, vocalist and percussionist
Tony Seiler, drums and percussionist
ESB
performs over 150 shows per year
for many private and "open to the public" functions.
PARTIAL SONGLIST & MP3'S
Revised 05/21/2010
Copyright ©1996 - 2009 St. John Artists - All Rights Reserved