LITTLE VITO & THE TORPEDOES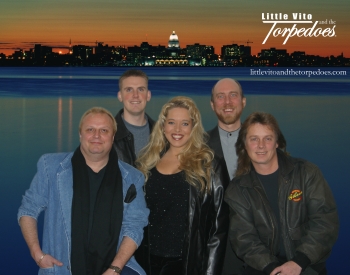 You are invited to partake in an event for the New Millennium. A 5-piece Rock, Variety, Show Band from the Midwest.


Little Vito and the Torpedoes rise to the occasion, whether it is your corporate event, party or club date. Little Vito and the Torpedoes are an all-inclusive group of some of the most celebrated musicians in the industry. They have one of the largest production shows in the Midwest, unlike any you have seen or will ever see again.


With music that spans the ages, from the 50's through the New Millennium, you are sure to find something you like in everything they do, no matter what your age. A group that is willing to stretch the limits of your imagination, all to provide you with an enjoyable entertainment experience. When it comes to entertainment, Little Vito and the Torpedoes will provide all you need to entertain everyone, from young to old.



LITTLE VITO
What makes a legend? For the last 30 years, Little Vito has been in two of Madison's most prominent bands: "Punch" during the 70's and "Little Vito and the Torpedoes" throughout the 80's, 90's. Vito puts his heart and soul into his drumming. Vito continues the legend with the return of "Little Vito & The Torpedoes". "I'm energetic and I'm good at surrounding myself with the very BEST musicians!"
CRAIG SCOTT
After playing in a band called the "Car Tunes", Craig Scott also became a member of Little Vito and the Torpedoes. Craig is a truly gifted guitarist and one of the lead vocalists. With a great sense of humor, he has an incredible talent for reading an audience and knowing what mood the band should be creating. These skills combine to make him a terrific front man and an audience favorite. "All I ever wanted to do was entertain people. Little Vito and the Torpedoes is the BEST group of people I have ever worked with to accomplish that."
TIM KRAUSE
Music fans will remember Tim Krause from "Fat Cat". Now with Little Vito and the Torpedoes, Tim turns in virtuoso performances every night. No stage can contain his vibrant personality. He is an accomplished musician on multiple instruments and he has performed for audiences around the world. "I like to be among the audience when I play. That's where the fun is."
MIKE HAYS
At 23 years old, Mike had already become a very desirable stage presence. His outstanding musicianship had led to repeat invitations to perform at Carnegie Hall in New York and opportunities to be a member of significant Madison-area rock bands. Now thriving with Little Vito and the Torpedoes, Mike's depth and talent at keyboards, saxophone, guitars and vocals bring an expansive musical foundation as well as a link to the younger audience. "I started doing this for fun. I soon learned it's what I am."
JOANNA LEA
From Broadway musicals to starring roles in Nashville and Opryland USA to performances as a member of "The Kids from Wisconsin" Joanna has received some of the industry's highest accolades. You will be astounded by her vocal talents; multi-character performance's and engaging smile. "The opportunity to merge my professional goals with a quality musical organization was something I couldn't pass up. Little Vito and the Torpedoes is a blessing. I have the backing, the support and the incredible talent to fulfill my dreams."
SAMPLE SONGLIST & MP3'S
Last Update 04/13/11
E-Mail Little Vito & The Torpedoes
Copyright ©1996 - 2009 St. John Artists - All Rights Reserved