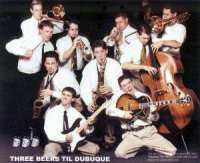 Three Beers 'Til Dubuque (as in "How much farther do we have?" Reply: "Till Dubuque? About three beers."). Even though the band was not founded on drinking and driving, it was founded on having fun. With a foursome rhythm section, and the "Dirk Diggler" six horn line, the ten piece ensemble has and creates more fun than college students on spring break in Mexico watching nude Jell-O wrestling and drinking heavily.
Each member has, at one time or another, participated in the music program at the University of Wisconsin La Crosse. All members have received, or are on track to receive, either a minor or bachelors in music. Don't let the education fool you though. TBTD plays a very wide selection of music from salsa to funk, traditional and modern swing to ska, r&b to pop, and some New Orleans street beats to top it all off. As an added crook to your smile, an ever-expanding list of originals aids in creating an atmosphere of nostalgia and astonishment. TBTD plays a high energy, grab ya, laugh hysterically in your ear set that will excite even the faintest of pulses. A common sight at a Three Beers show is anywhere from 100 to 4,000 people jumping up and down in unison or forming conga lines that will tempt the timid.
Three Beers, also known as "That Beers Band," started about a year and a halt ago with 12 members primarily playing one bar in La Crosse. Today, TBTD has scaled down to ten members and bought many more mics while playing a plethora of bars, and larger venues. Some of those venues and events include: Oktoberfest, Riverfest, La Crosse's largest fests as well as countless bar gigs and is currently the top musical attraction in the La Crosse area appealing to the youngest of the bar hoppers to the seasoned jazz veteran.
Three Beers 'Til Dubuque is:
| | |
| --- | --- |
| Jesus Arellano: Bass Trombone, Trombone, and Baritone Saxophone | Keith Larsen: Drumset |
| Chris Bluske: Trumpet | Tyler McDiarmid: Guitar |
| Bob Graham: Guitar | Jeff Nelson: Bass Guitar |
| Brendon Hogan: Trombone, Trumpet, and ewe | Chip Schraeder: Alto saxophone and Penny Whistle |
| Kevin Klemme: Trumpet | Alex Wilkens: Tenor Saxophone and Lead Vocals |
SAMPLE SONGLIST
| | |
| --- | --- |
| Latin | R & B |
| Manteca-Dizzy Gilespie | Soul Man-Sam and Dave |
| Philadelphia Mambo-Mongo Santamaria | I Feel Good-James Brown |
| Bang Bang | I Got the Feelin'-James Brown |
| Oye Como Va-Tito Puente (Santana) | Didn't Leave Me No Ladder-Paul Cebar |
| Come Candela | |
| Brick House-The Commodores | |
| Salsa Neuva-Jeff Taylor | Boogie Shoes |
| Mambo Caliente-Arturo Sandaval | Slammin'-Huey Lewis & the News |
| El Ray Del Timbal-Tito Puente | Get it on-Chase |
| Hot Hot Hot-Buster Poindexter | Spinning Wheel-Blood, Sweat & Tears |
| Mambo King-Tito Puente | Good Morning Judge-Buster Poindexter |
| Yankee Girl-Liquid Soul | |
| Caravan-Duke Ellington | |
| | |
| --- | --- |
| Ska | Swing |
| When the Bow Breaks | Who Dat?-Royal Crown Revue |
| Foursome-Mephaskafalies | Go Daddy 0"-Big Bad Vodoo Daddy |
| 241-Reel Big Fish | Jump Jive an'Wail-Louis Prima |
| She Has a Girl Friend Now-Reel Big Fish | Route 66 |
| Hey Pachuco-Royal Crown Revue | |
| | |
| --- | --- |
| Funk | POP |
| Pick up the Pieces-Average White Band | Call Me Al-Paul Simon |
| Cut the Cake-Average White Band | Late In the Evening-Paul Simon |
| What is Hip?-Tower of Power | |
| Down to the Nightclub-Tower of Power | |
| Here Comes the Big Parade-Harry Conick Jr. | |
| How do ya'll know-Harry Connick Jr. | |
| The Chicken-Maceo Parker | |
| Shake Everything You Got-Maceo Parker | |
| Low Rider-War | |
Originals
Breezin
Juntos
What You Got For Me
Big Time
Chicken Fried Steak
Last Update 08/12/09
Copyright ©1996 - 2009 St. John Artists - All Rights Reserved