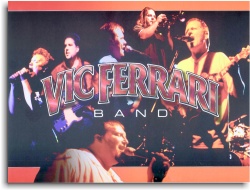 SOME PEOPLE might think that the days of traveling variety entertainment are gone - that marketers have thoroughly pigeonholed and categorized music into formats. It's the old divide and conquer trick!
The Vic Ferrari Band - one of the Midwest's most powerful showy-dance bands- flies in the face of this philosophy. The seven-man band packs tunes from a variety of musical genres into powerful sets tailored to the age and taste of those in the audience.
"We entertain everybody and anybody," said front man Michael Bailey. "When possible, we try to decide what to play in advance. but sometime it's not until you look into the floodlights that you get a sense as to what people want to hear. Then, I'll just call out song titles and we'll build the set right there on the spot!"
And A Good Time Was Had By All...
The band cuts across age groups and culture gaps by encompassing wide stretches of musical territory. while the band focuses on classic rock from the 60's, 70's and 80"s, their repertoire is diverse enough to include Sinatra tunes, county classics, popular movie themes, blues anthems, and some of the timeless pop tunes you thought had faded into obscurity.
Diversity of this nature would be difficult for most bands to pull off well. The seven-member band, however, is made up of multi-instrumentalists - All members have lead vocal responsibilities.
"Everyone sings. It really opens up a lot of avenues for us, musically," Bailey says. "Each member of the band increases our capability exponentially."
"Some bands' goal is to impress people with their musicianship. Others want to fit into a commercial radio format. Our goal is to watch people have fun when we play," said drummer/vocalist Wayne Peters. "We've been successful at that. It's been great."
This success is defined in terms of people and places. Last year alone, the band played more than 120 shows in five states in front of an estimated 150,000 people. A compact disc or original music is soon to be released and impressive gigs keep piling up.
"We're opening for major recording artists-headlining some larger outdoor festival gigs. We're starting to branch out into new geographical territories, too" said manager, Bill Harrison. "The way we really track our success, though, is in the number of people we draw, the number of people dancing, and our impact on the success of our client's event." Everyone has fun when the Vic Ferrari Band comes to town.
In The Beginning...
In the beginning there was Bailey, who sing, plays bass and doubles on trumpet. Bailey left his blue-collar background to start a trio with drummer/vocalist Peters, and keyboard/saxophonists Ben Gorske. The band took the name Vic Ferrari from the sitcom Taxi. It was the alter ego of Latka--one of the show's characters
"We could have named the band anything. Who knows why we chose what we did? But it seems to work," Bailey said. "Some people figure that I'm Vic Ferrari because I'm the one talking between songs. If anything, you'd think people would identify Wayne as Vic. Wayne sings more lead than I do. I guess we're all Vic. Vic is like a spirit or something like that."
The Band Includes...
| | |
| --- | --- |
| Vocals/Bass Guitar/Horns | MICHAEL BAILEY |
| Guitarist/Vocalist | RUSS REISER |
| Vocalist/Horn player/Bass player | CHAD MUENSTER |
| Vocalist/Trumpet Player/Percussionist | TOM BAILEY |
| Drums/Vocals | WAYNE PETERS |
| Keyboards/Sax | AARON ZINSMEISTER |
| Vocals/Drums | RON KALISTA |
"Over the years, we've added members to the original group of three," Bailey said. "What that means is that over time we've gotten tighter and developed a rapport most people only see among jazz guys. There's a certain feeling you get with people who have played together for years."
A Big Production...
Because Vic Ferrari is a show band, they are outfitted particularly well for playing live. For many venues, the group travels with equipment by the semi-trailer and employs up to eight personnel to manage the audio and light production. "Everything's got to be seamless. Every tone, every vocal utterance. We like our production to be crisp," Harrison said. "Seeing a show band should be almost like seeing a Broadway Show," Peters said. "We try to make it a spectacle--almost like going to the circus."
Our Video
"Ferrari," states their longtime agent, Jon St. John, "like a great play or movie, gains control of your emotion and inhibitions. They lift you up, stimulating the crowd's emotions. You just want to get down and boogie while putting all of life's problems on a shelf for a few hours."
SAMPLE SONGLIST
| | |
| --- | --- |
| SONG | ARTISTS |
| Tusk | Fleetwood Mac |
| Under Pressure | Queen |
| Late In The Evening | Paul Simon |
| Ring Of Fire | Johnny Cash |
| Long Time | Boston |
| And She Was | Talking Heads |
| Start Me Up | Rolling Stones |
| Stroking (PG 13 Version) | Clarence Carter |
| Hollywood Nights | Bob Seeger |
| Dirty Deeds | AC/DC |
Last Update 04.13.11
Copyright ©1996 - 2009 St. John Artists - All Rights Reserved